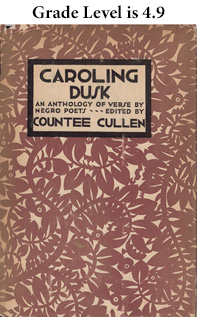 The epub format below is for your Apple and Android devices including Send-to-Kindle.
If you or your students want to download directly from this web site to  an Amazon device, you can use the mobi format below. When you find the mobi file  in ES File Explorer, it will then open in the Kindle app on your tablet. If you download an epub file to your Amazon tablet, it will also open if you have an app such as Overdrive on your tablet. The Kindle app offers an excellent reading experience to start with. Overdrive may need some customization of font size.
Download mobi file here.
Caroling Dusk: An Anthology of Verse by Negro Poets is a 1927 poetry anthology that was edited by Countee Cullen. It has been republished at least three times, in 1955, 1974, and 1995 and included works by thirty-eight African American poets, including Paul Laurence Dunbar, Langston Hughes, Georgia Douglas Johnson, James Weldon Johnson, and Claude McKay. The anthology also includes biographical sketches of the poets whose work is included in the book.
From the original publisher's description:
"In editing 'Caroling Dusk,' an anthology of verse by Negro poets, Countee Cullen has assembled a timely and interesting collection which, even in this day of many anthologies, can show a definitive reason for existing. Not only does this book allow for more than the casual appreciation generally provided by an anthology, but it assembles in one volume much splendid verse not heretofore contained in any compilation. Beginning with Paul Laurence Dunbar, this anthology gives vivid and characteristic selections from the work of poets of established reputation, such as James Weldon Johnson, Jean Toomer, Jessie Fauset, Georgia Douglas Johnson, Claude McKay, and, finally, Langston Hughes, whose naive and mordant genius has recently been so universally acclaimed."
https://ebooksforstudents.org/wp-content/uploads/2023/11/GradeLevel.jpg
317
197
Jim McCabe
https://ebooksforstudents.org/wp-content/uploads/2014/11/Ebooksforstudents-Logo-300x112.png
Jim McCabe
2019-08-18 22:42:46
2023-11-13 22:47:14
Caroling Dusk An Anthology of Verse by Black Poets of the Twenties