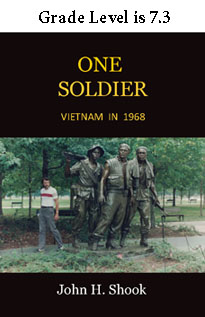 Who, or what, was the real enemy in Vietnam? The ever-elusive, jungle-wise Viet Cong and their NVA allies? The oppressive heat and torrential rains? The leeches, mosquitoes, and the jungle itself? Or the army whose regulations made you carry a .45 even though the firing pin was broken? Perhaps, each in their own way, they all were… and John Shook battled them all.
In One Soldier, he recounts his experiences and describes how he faced—and overcame—all the enemies a machine-gunner encountered in the Nam. Straight-from-the-shoulder, Shook tells of search and destroy patrols and night ambushes and slogging through a rice paddy, wondering when the first shot was going to come. You'll be at his side during bull sessions on getting a "million-dollar" wound that would mean a return to the States and in firefights that turned his M-60 machine gun from a shoulder-numbing burden into a staccato, lead-spewing lifesaver.
Most of all, One Soldier is a story of combat, written in the immediate, gut-wrenching language that men at war resort to: "A burst of automatic rifle fire rips through the hooch inches above my elevated perch. Knowing exactly where my rifle hangs I reach out for it but grasp only air and wooden wall. … The firing in both directions is heavier now. There is yelling on the bridge. It is a black night, a void of vision punctuated by muzzle flashes and the crisscrossing streaks of tracers… Is that your 16?' I yell. 'What the f—. Who cares?'… 'Where was your rifle when this s— started?'"
The epub format below is for your Apple and Android devices and the Send-to-Kindle feature on Amazon devices.
Download in mobi format for your Amazon ereader or Fire tablet:
https://ebooksforstudents.org/wp-content/uploads/2022/04/Grade_Level_Shook_317high_18ptMinionBold-1.jpg
317
205
Jim McCabe
https://ebooksforstudents.org/wp-content/uploads/2014/11/Ebooksforstudents-Logo-300x112.png
Jim McCabe
2022-10-06 21:43:12
2023-11-26 18:02:22
One Soldier by John H. Shook