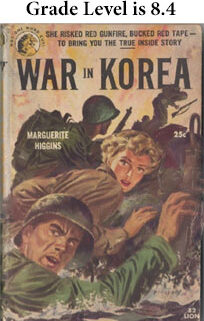 Read about the first year of the Korean War in "War in Korea: The Report of a Woman Combat Correspondent."  The author, Marguerite Higgins, was the first woman to win a Pulitzer for international reporting. The book is about the battles at the start of the war as the armies moved up and down the Korean Peninsula. But Higgins is not concerned with military strategy. She writes about the lives of U.S. GIs, the Korean civilians, and how she navigated through a male dominated military who wanted to send her home.
The military historian, S.L.A. Marshall appreciated Higgins's work: "This Maggie's eye view of the Korean police action is downright irresistible in its candor, in its simple expression of the things which most of us feel strongly but can't say very well, in its change of pace between the tragedy of the battlefield and the high comedy of much of human behavior in close relationship to it….Many of her word pictures are remarkable in their ability to convey much in little; where she philosophizes at all about men in battle her style is almost epigrammatic, and many of her observations have such a true ring that they deserve to be remembered and widely quoted."
According to the Saturday Review of Literature it is "….a whale of a war story."
Here is the ebook in pdf format:
War In Korea The Report Of A Wo – Marguerite Higgins
To read this ebook using Readium on a computer, or for Google Play Books on your tablet, or iBooks on an iPad, download this epub format.

To read on a device from Amazon, or on the Kindle app on your computer, here is the ebook in mobi format.

Directions on how to email this file to your device are
here
.
To add this mobi file to your Kindle for PC software to read the chapters on your computer, see
these instructions
 .
The Kindle WhisperCast Service allows teachers, or librarians to send a mobi file to a group of student Kindle email addresses even if the document or ebook was not purchased on Amazon. In the WhisperCast Service, the mobi files you upload such as this one, will then be found in the Documents folder. Only items purchased on Amazon, will appear in the Books folder.
https://ebooksforstudents.org/wp-content/uploads/2021/09/Sept2021_333pxhigh-1.jpg
333
204
Jim McCabe
https://ebooksforstudents.org/wp-content/uploads/2014/11/Ebooksforstudents-Logo-300x112.png
Jim McCabe
2016-10-01 18:46:42
2021-10-06 22:17:50
From a Pulitzer-Prize Winning War Correspondent with Maps and a Study Guide