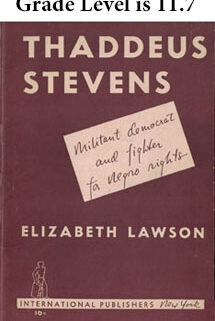 Download the epub version for your Android or Apple device:

Download the mobi version for your Amazon device:

The writer makes the political energy and moral intensity of Thaddeus Stevens clear to readers in this short, 40 page pamphlet. What was the fate of the Freedmen after the Civil War? What economic opportunities were available to them? What were Stevens's plans for Reconstruction? Were they enacted? 

Thaddeus Stevens (April 4, 1792 – August 11, 1868) was a member of the United States House of Representatives from Pennsylvania. He was one of the leaders of the Radical Republican faction of the Republican Party during the 1860s. A fierce opponent of slavery and discrimination against African Americans, Stevens sought to secure their rights during Reconstruction, leading the opposition to U.S. President Andrew Johnson. As chairman of the House Ways and Means Committee during the American Civil War, he played a leading role, focusing his attention on defeating the Confederacy, financing the war with new taxes and borrowing, crushing the power of slave owners, ending slavery, and securing equal rights for the Freedmen.
As the most powerful leader in Congress of the Radical Republicans, he asked the nation what would political rights mean after the Civil War "without jobs, land, bread and shelter."
https://ebooksforstudents.org/wp-content/uploads/2014/09/BetterGradeLevel_for_Website333pxhigh-e1652290421949.jpg
317
205
Jim McCabe
https://ebooksforstudents.org/wp-content/uploads/2014/11/Ebooksforstudents-Logo-300x112.png
Jim McCabe
2014-09-15 19:48:29
2022-05-11 17:34:04
Thaddeus Stevens: Militant democrat and fighter for Negro rights