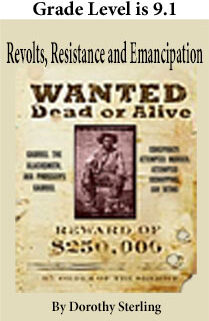 Here is the story of the slavery issue from the first slave traders through the African-American part in early American history and the Civil War, and the events and people who played a part in the history-making document, the Emancipation Proclamation. Read about Gabriel Prosser and Nat Turner who led revolts, and the settlements of runaways in Florida, and other forms of resistance. Written for a young adult audience, the Flesh-Kincaid reading level is 9.1 which makes it accessible to many high school students.
To download an epub file, use this button
To download a mobi file for your Amazon device, click here
The fastest way to read the mobi file on your Fire tablet is to open the Silk browser and download it to your tablet. When you click on the file, it will open on your Fire device as a normal Kindle book. You will find it in the Downloads folder on your tablet. Some of the Kindle features such as annotating will not be available. After all you found it for free.
If you are using an earlier Kindle e-reader when the browser is less robust and you don't use it very often, you may need to email the file to your device. Directions on how to email this file to your device are here.
To add this mobi file to your Kindle for PC software to read the chapters on your computer, see these instructions, or use Readium which is mentioned below. And of course, you will find directions on the web about how to sideload mobi files to your devices.
The Kindle Personal Document Service allows teachers, or librarians to send a mobi file to up to 15 student Kindle email addresses at a time.
With the Readium app, you and your students can read this ebook in epub format on computer screens. By changing the background color, and enlarging the font, the Readium experience is reasonable.
https://ebooksforstudents.org/wp-content/uploads/2021/09/Sept2021_333pxhigh-2.jpg
333
209
Jim McCabe
https://ebooksforstudents.org/wp-content/uploads/2014/11/Ebooksforstudents-Logo-300x112.png
Jim McCabe
2016-06-02 17:01:53
2021-09-11 15:02:52
Free: Revolts, Resistance and Emancipation by Dorothy Sterling. Grade Level is 9.1