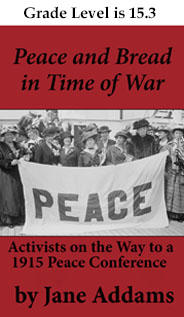 Download in epub format:
Download in mobi format for Kindle devices:
First published in 1922 during the "Red Scare," by which time Jane Addams's pacifist efforts had adversely affected her popularity as an author and social reformer, Peace and Bread in Time of War is Addams's eighth book and the third to deal with her thoughts on pacifism.
Addams's unyielding pacifism during the Great War drew criticism from politicians and patriots who deemed her the "most dangerous woman in America." Even those who had embraced her ideals of social reform condemned her outspoken opposition to U.S. entry into World War I or were ambivalent about her peace platforms. Turning away from the details of the war itself, Addams relies on memory and introspection in this autobiographical portrayal of efforts to secure peace during the Great War. "I found myself so increasingly reluctant to interpret the motives of other people that at length I confined all analysis of motives to my own," she writes. Using the narrative technique she described in The Long Road of Women's Memory, an extended musing on the roles of memory and myth in women's lives, Addams also recalls attacks by the press and defends her political ideals.
Source: Goodreads.
https://ebooksforstudents.org/wp-content/uploads/2019/08/June2021_Addams.jpg
317
184
Jim McCabe
https://ebooksforstudents.org/wp-content/uploads/2014/11/Ebooksforstudents-Logo-300x112.png
Jim McCabe
2019-08-15 23:45:18
2021-10-06 22:05:17
Peace and Bread in Time of War by Jane Addams