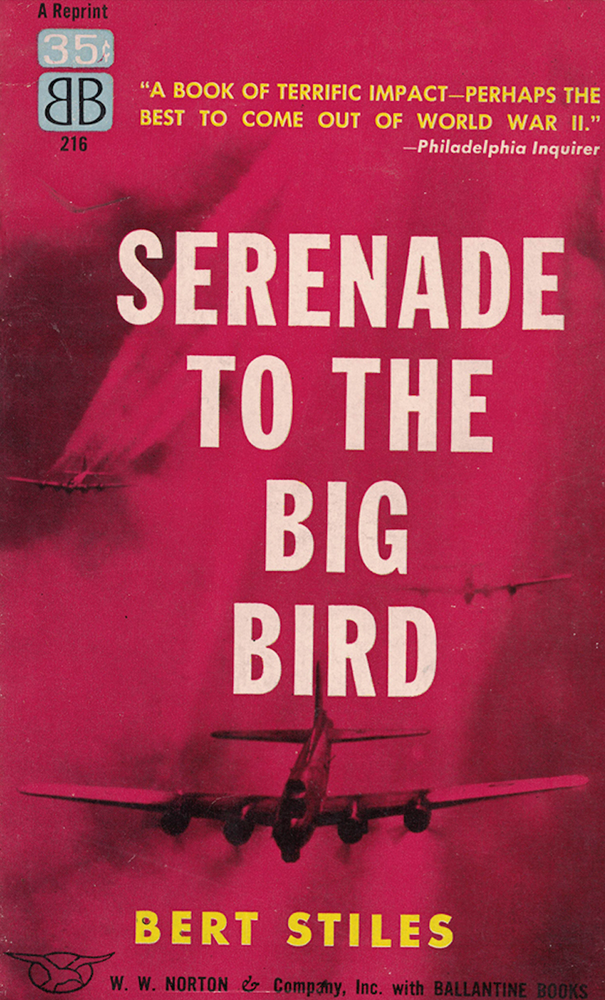 Reviews
"A book of terrific impact. Perhaps the best to come out of World War II." Philadelphia Inquirer
"THE serenade is a simple and moving story of the war in the air. The big bird was a Flying Fort. She had a crew of ten men and all but one of them were 20 to 24 years old. Bert Stiles was the co-pilot. He had been in college before he joined and had ability as a writer. The pilot was Sam Newton. Beach, who was 34, was the ball turret gunner. and the only man in the crew who was married. He had been a mechanic before the war. He was a sleepy sort of guy. They went out on missions together into Germany from England. They ran into flak and had the daylights scared out of them, and burned out their guns shooting down 109's and Focke-Wulfs. They dropped bombs on Berlin and other cities, and hated war, and did not like to think what their bombs had done. …"There was none of the tense struggle of physical combat in young Stiles' life. You just sat there and took it—faced death up in the cold sky and couldn't do anything about it. Any time you might disintegrate in a blast of flame. It didn't help the nerves." The New York Times.
To read this ebook on a computer using Readium, or for Google Play Books, or iBooks on your tablet or iPad, download this epub format.

To read on a device from Amazon, here is the ebook in mobi format.

Directions on how to email this file to your device are here.
To add this mobi file to your Kindle for PC software to read the chapters on your computer, see these instructions .
The Kindle Personal Document Service allows teachers, or librarians to send a mobi file to up to 15 student Kindle email addresses at a time.
Bert Stiles flew 35 missions as co-pilot of a Flying Fortress—the "big bird" of the title. SERENADE TO THE BIG BIRD is a vivid, close-up view of life in the bomber squadrons of the U.S. Eighth Air Force in World War II. Bert Stiles was a combat co-pilot of a B-17, flying missions over France and Germany in the spring and summer of 1944. This is his book, written between missions— a beautiful and terrible and gripping story of one plane and its crew.
WILLIAM SAROYAN
"An earnest, wonderful and heartbreaking work—a young man's grim and loving tribute to his pals, his generation."
DOROTHY CANFIELD FISHER
"I found it absorbing. . . . There is in this book from an American aviator now dead something for all living Americans to read and ponder."
BROOKS ATKINSON
"Like everybody else I have read a number of books about the war. But it seems to me I never read one that was more straightforward. … I can well believe that his book is the absolute truth of life in the Air Force based in England."
EDITH HAMILTON
"The book is true. A highly civilized lad was brought up against barbaric war, and in his casual, careless way he has clarified what the result is and must be, as no one else I know has done. For this warring age of ours this book should be among the books that live."
GRANVILLE HICKS
"I quite literally didn't put it down again until I had finished it. I have read nothing about flying men—or fighting men of any sort—that seemed so unmistakably real. You know beyond any question that this is what one man felt and thought. . . . And I must say that Bert Stiles seems to have been not only a talented but an awfully good guy."
In all the literature of the war there has been nothing comparable to this one, short book. It is a young American airman's account of himself and of the story he lived in England and in the sky over Germany. It tells what happened to him and to his friends while they fought their war, or went on pass in London, or talked, or waited out still another mission, or remembered home. It tells of a time when maturity caught them by surprise.
On the days when he wasn't flying he worked on this book, pouring into it all that he had experienced and thought—of war, of the men who flew with him, of the time when there would be peace. It is a deeply rewarding book—a serenade to life, strong and gentle, rowdy and young.