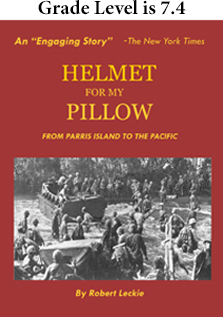 The epub format below is for your Apple and Android devices and the Send-to-Kindle feature on Amazon devices.

To read on a device from Amazon, here is the ebook in mobi format.

Editorial Reviews
The New York Times, September, 1957.
"…This is an old story, but it is told in a fresh and lovely voice. Robert Leckie writes with charm, with personal humility, with humor, with a rare gift for capturing all that is human in the most inhuman of man's activities.
He makes no bones about it—the war is what happened to him. The point of view is not the grand strategy of victory, but the immediate tactic of personal survival. By turns a boot, a machine gunner on Guadalcanal, a liberty hound in Australia, an intelligence scout on Peleliu—briefly a self-styled "brig rat" subsisting on bread and water and finally a casualty —Private Leckie fought the enlisted man's battle.
By David Dempsey
From the Marine Corps Association and Foundation
R
evisiting a Pacific War Classic by Lt. Col. Michael Grice
Robert Leckie's "Helmet for My Pillow" has been my single favorite military book for over 30 years. Written from the perspective of a young participant in the great endeavor that was World War II, it is a soulful, wrenching, humorous, and insightful account of one youth's journey into manhood via the Pacific campaigns spearheaded by the 1st Marine Division.
I first read it as a junior high school student in 1980, and I have reread it nearly every year since. It has framed my perspectives of the Marine Corps, of leadership, of enlisted service, of officers, and of combat as I have aged, matured, and risen through the ranks. Leckie doesn't provide a technical, historical account consisting of units, maps, and strategy, but instead provides a humanistic view of the Marine Corps at war from the perspective of an often-bewildered observer caught up in the whirlwind of events.
Beginning with his rush to service after the attack on Pearl Harbor, Leckie brings the reader along as a fellow traveler on his journey to war. He presents his story through a framework of symbolism, simile, and metaphor; almost no character is identified by actual name but instead by title or attribute that the author chooses to best typify them. Generally warm to his peers (to whom have been bestowed titles such as "Hoosier," "Chuckler," and "Runner," all so called because of their origins, habits, or claims to fame), he is critical of his seniors, most notably his officers. "Commando," for example, was what we would consider an exceptionally motivated officer in the modern sense, but his Marines viewed him with suspicion and occasional terror as he attempted to utilize urban combat techniques in the dank jungles of the Pacific. "Commando sits on his brains," says Leckie and his mates; they recognize that he is incredibly brave, but such bravery is not the only quality that a leader needs to possess in order to inspire men. He writes of officers who only venture into the lines when they hear that Leckie has somehow obtained a box of cigars; true to his status as a carefree private he ensures that they receive none.
Leckie is not uncomplimentary to all of his leaders, however, as he admiringly terms one of his lieutenants "Spearmint" because he has the lowly affectation for chewing gum. Spearmint they follow out of respect and admiration; Commando they follow because they are Marines, and Marines follow orders. The juxtaposition of leadership types and styles from the perspective of an articulate young private is an object lesson that all Marine leaders should heed, and there is no finer case study than Helmet for My Pillow.
The book should not be read only for the study in leadership, but also from the perspective of a Marine engaged in a seemingly endless conflict. Leckie speaks of timeless war where rumors of returning home rise and fall with the completion of each assault. He chronicles the chaotic creation of a newly formed division as it prepares to fight; the murderous landings and campaigns in Guadalcanal, New Britain, and Peleliu; and the adventures and misadventures of liberty in Australia.
His writing style is not the staccato regurgitation of battle lines, company positions, and enemy orders of battle, but instead it is the wrenching and visceral viewpoint of a machinegunner in a dank and slimy pit who waits in the dark for the yellow peril to blot him savagely from existence. He writes of idly watching crocodiles feast on the Japanese dead in the Tenaru River, most notably one he names "Chowhound" because the dead soldier floats in a soup of rice ripped free from his haversack when the amphibious animals savage his body. He speaks easily of the petrifying terror felt by them all when the banzai charges came, and of the following relief when the attacks are repulsed and the field of battle is thick with the corpses of slain Japanese soldiers. He writes much as Norman Mailer did in The Naked and the Dead; his story is about the military experience but is not intended to be a military book. He writes of life and love and, most intensely, of fear:
I had not looked into its foliage before the darkness and now I fancied it infested with Japanese. Everything and all the world became my enemy, and soon my very body betrayed me and became my foe . . . . I lay quivering, in that rotten hole while the darkness gathered and all creation conspired for my heart. How long? I lay for an eternity. There was no time. Time had disintegrated in that black void. There was only emptiness, and that is something; there was only being: there was only consciousness. Like the light that comes up suddenly in a darkened theatre, daylight came quickly. Dawn came, and so myself came back to myself. I could see the pale outlines of my comrades to right and left, and I marveled to see how tame my tree could be, how unforbidding could be its branches.
I know now why men light fires.
Marines of all ranks and ages should read Leckie's memoir. It contains lessons that pertain to us all—lessons about combat, lessons about life and, most importantly, lessons about leadership. Leckie, who managed to reach the rank of private first class on several occasions, rose from bread and water in a transport's brig to being decorated for valor while fighting the Japanese. His observations on his lot in life, his friends, and his leaders are not so dissimilar from those being made today in places like Marjeh in the Helmand Province of Afghanistan. I have read his work dozens of times and will reread it many times more. I learn a little more each time I read it, and it is so well written that I look forward to reading it again.
Reprinted with permission of Lt. Colonel Michael Grice.
Directions on how to email this file to your Kindle device are here.
To add this mobi file to your Kindle for PC software to read the chapters on your computer, see instructions at http://tinyurl.com/y8gsazq.
The Kindle Personal Document Service allows teachers, or librarians to send a mobi file to up to 15 student Kindle email addresses at a time.
https://ebooksforstudents.org/wp-content/uploads/2021/11/Nov2021_317high_Helmet.jpg
317
223
Jim McCabe
https://ebooksforstudents.org/wp-content/uploads/2014/11/Ebooksforstudents-Logo-300x112.png
Jim McCabe
2020-05-24 20:06:18
2023-11-26 18:03:45
Helmet for My Pillow: From Parris Island to the Pacific