These instructions work for both Android and iPads.
You or your school can add ebooks to your Overdrive bookshelf without purchasing them through Overdrive.
If you email a book to your student's gmail account, they will have the choice of loading it in an app such as Google Play books or saving it. By saving it, they can load it in Overdrive if your school insists that students use Overdrive for their bookshelves. The Amazon Kindle app and Google Play Books app offer superior features for students such as note taking, but this is not the time for an evaluation of apps.
To load the saved book in the Overdrive app.
Open a file explorer app (like AndroZip or ES File Explorer) where you will see your Downloads folder.
Tap the file you've just downloaded. A pop-up will appear asking what app you'd like to use to open the file.
Select the OverDrive app from the list. This will add the title to your Overdrive bookshelf.
See slightly different words about this process at http://help.overdrive.com/customer/portal/articles/1481190-what-to-do-if-a-downloaded-title-is-not-automatically-added-to-the-app-bookshelf-in-overdrive-for-android
To add epubs to an Ipad
These steps may not be necessary for Overdrive. Your server administrator can add ebooks to your Overdrive bookshelf. But if the server administrator is off for a few days…
Basically, email the ebooks to your students. They can then open the email containing the epub or epubs. Then they tap on the epub they want loaded or copied into an ereading app. Now then will see the choices below, and can make a choice by tapping on the bar to the right.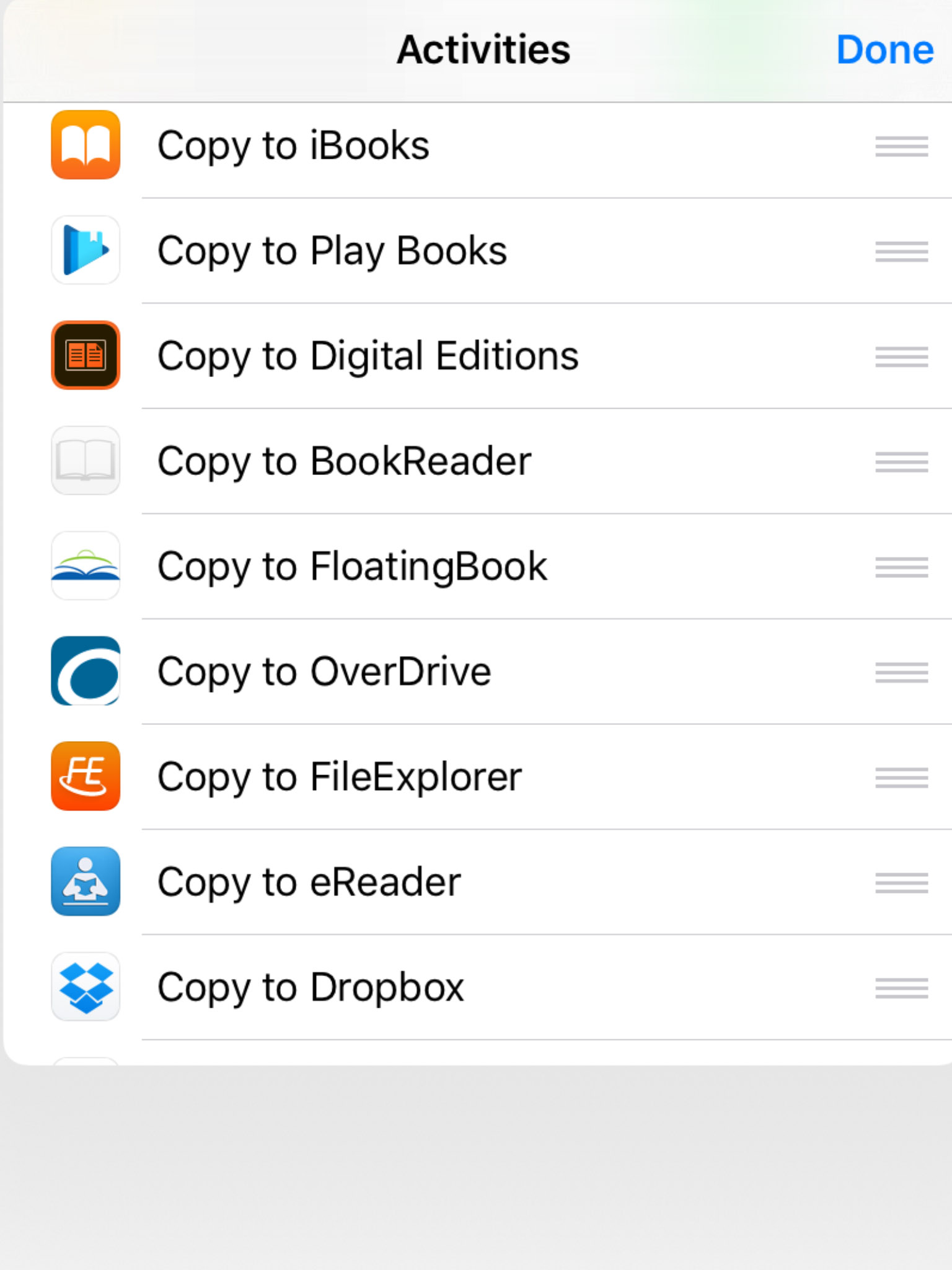 https://ebooksforstudents.org/wp-content/uploads/2016/05/OverDrive_Logo_445x65_rgb.png
65
445
Jim McCabe
https://ebooksforstudents.org/wp-content/uploads/2014/11/Ebooksforstudents-Logo-300x112.png
Jim McCabe
2016-05-25 20:09:14
2016-06-09 21:01:44
Adding ebooks to an Overdrive bookshelf