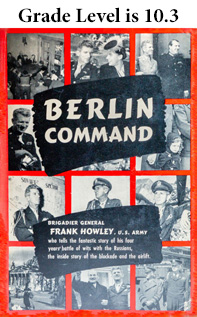 The epub format below is for your Apple and Android devices including Send-to-Kindle.

If you or your students want to download directly from this web site to  an Amazon device, you can use the mobi format below. When you find the mobi file  in ES File Explorer, it will then open in the Kindle app on your tablet. If you download an epub file to your Amazon tablet, it will also open if you have an app such as Overdrive on your tablet. The Kindle app offers an excellent reading experience to start with. Overdrive may need some customization of font size.
Download mobi file here.

The New York Times did not love Berlin Command by General Frank L. Howley. The Times suggested that Howley was a little full of himself. It did not like his arguments with his superiors, and his criticisms of other officials involved in the Berlin Airlift. I disagree with the Times. I enjoyed the narrative. It was energetic and straightforward, if at times a little opinionated. But General Howley had the right to take some of the credit for the success of the Airlift.
He was the military manager of the American sector of Berlin. With the airlift of food and coal from West Germany to Berlin, he and his colleagues rescued the over 2 million people in the Allied sectors of Berlin from lives under Soviet tyranny after the Russians had stopped road, rail, and waterway traffic to Berlin in 1948 and 1949.
I would suggest that you advise your students to skip most of the first chapters where Howley talks about the division and administration of Germany before the airlift was necessary. I think that Howley produced an interesting introduction to the Cold War. He shows how the distrust between the U.S. and Russia came about. The tension created by the Berlin Airlift influenced American politicians and military leaders for decades.
The grade level is 10.3.
https://ebooksforstudents.org/wp-content/uploads/2023/08/317high_300dpi_10ptfont.jpg
317
197
Jim McCabe
https://ebooksforstudents.org/wp-content/uploads/2014/11/Ebooksforstudents-Logo-300x112.png
Jim McCabe
2019-02-10 19:14:51
2023-08-29 19:24:21
Berlin Command by General Frank L. Howley